Three Steps to Achieving Your Dream Greenhouse
A Vancouver greenhouse professional shares how to expand your space and add light to your life
Where: Surrey, British Columbia
In her own words: "Over the years, we have been encouraged by the ingenuity of our customers and how they envision our products. With a bespoke manufacturer, the sky is the limit in terms of function and design."
___________________________________________________________________________________________________
Imagine enjoying your morning coffee as you watch snowflakes drift onto the clear ceiling above you. Swimming in the moonlight on a cool autumn evening, or pruning your plants without breaking a sweat on a hot summer afternoon. Sound appealing? All of these activities are possible when you're surrounded by well-designed glass. "Whether you have something that inspires you or a photo of a greenhouse you've fallen in love with, start thinking about what's achievable at your home," says Angela Drake of Vancouver-based Meridian Estate Greenhouses. "Then make your dreams a reality."
A light escape. Greenhouses don't just grow greenery; sunshine and bright spaces also please people and help enhance an overall sense of well-being, Drake says. "People are naturally drawn to light," she says. "We all want to slow down and enjoy life a little more. Creating a greenhouse is part of that."
Diverse year-round uses. Drake especially appreciates the ability to create rooms that people can enjoy year-round. "In a greenhouse, you can sit outdoors and enjoy your garden, but you're in a protected space," she says. "With a variety of glazing and framing options, virtually anything is possible." Clients have maximized this potential with greenhouses that act as swimming pool areas, places for prized plants and glass-enclosed living rooms.
Ready to realize your greenhouse ideal? Drake shares the steps to take below.
1. Consider the Use
Think about how you want to spend your time in the space and its overall application, Drake says, whether it's for gardening, exercising or simply lounging.
At this home in Rancho Santa Fe, California, Drake's team created a greenhouse tailored around the owner's desire for a space to tend her prized orchids. The roof has three types of glass, each of which filters different UV rays to suit the varied needs of the 60-odd orchids that live in the greenhouse. There's a custom concrete potting bench fitted with stainless steel cabinetry to hold tools, soil and gloves. Plants sit on wire-topped metal benches that allow water to drain through.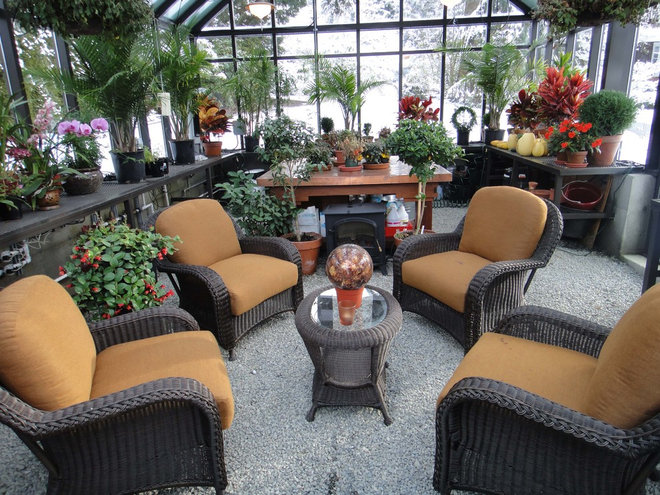 2. Take Weather Into Account
It's important to know outdoor conditions such as winter temperatures, wind force and snow loads to assess the structural support needs of your greenhouse, Drake says, "whether it's 140 pounds of snow or 140-mph winds."
The owners of this Seattle home wanted to sit in a cozy greenhouse year-round. Drake's team created a tropical space that always stays above 60 degrees Fahrenheit, even in winter. Palm trees, bromeliads and foxgloves cluster happily around an intimate seating area. Even though the space is warmed by propane, an exhaust fan limits condensation and tubular bars hide all the heating and cooling hardware so it doesn't mar the views to the outside.
3. Style to Suit
Decide on a look that matches your home and your overall vision, Drake says. "Then plan ahead, especially if you're also working with an architect or contractor."
The greenhouse at this Ohio home was designed to be tall and stately and to match the traditional main residence. A stone base mimics the home's cladding, and a cupola rises 30 feet, reflecting the smaller cupola on the house. The owner chose curved transoms for the side walls as a decorative feature to add an extra something special to the greenhouse.
This story was written by the Houzz Sponsored Content team